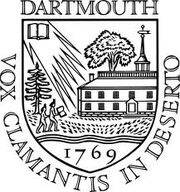 Dartmouth Post-doctoral Fellows Program in U.S. Foreign Policy and International Security
http://dickey.dartmouth.edu/initiatives/visiting-fellows
The Dickey Center for International Understanding at Dartmouth College invites applications for the 2012-13 (September -June) Dartmouth Fellows Program in U.S. Foreign Policy and International Security. Applicants from all disciplines working on research that bears directly on U.S. foreign policy and international security are welcome to apply. While scholars at all stages of their careers will be considered, applications from recent recipients of the Ph.D or equivalent degree are especially welcomed. Fellows must be in residence during their Fellowship and are asked to participate in Dickey Center seminars and events and invited to take advantage of other Dartmouth activities.
Fellows receive competitive stipends and benefits, comparable to those offered by other fellowship programs. Faculty on leave from their home institutions will receive half of their annual salary, up to $50,000. Dartmouth is an EE/AO employer.
Applications will be evaluated on the basis of the quality and significance of the proposed research and its relevance to U.S. foreign policy and international security, and the ability of the applicant to benefit from interaction with and mentoring from Dartmouth faculty.
How to Apply: Applicants must submit all of the following by Tuesday, January 17, 2012:
A curriculum vitae
A statement of up to 1,500 words describing the proposed research project
A writing sample prepared
Two letters of reference sent directly to the Dickey Center by January 17, 2012.
A confidential financial statement on a separate page indicating the applicant's other sources of support available during fellowship period and --for current faculty only – current salary.
Submit application materials to: Dickey.Fellows.Program@dartmouth.edu. Materials that cannot be submitted electronically should be directed to: c/o Sharon St. Martin, 6048 Haldeman Center, Hanover NH 03755.
Ad blocker interference detected!
Wikia is a free-to-use site that makes money from advertising. We have a modified experience for viewers using ad blockers

Wikia is not accessible if you've made further modifications. Remove the custom ad blocker rule(s) and the page will load as expected.